Who We Are?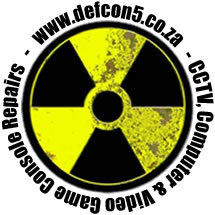 Defcon 5 was established August 2000. Initially our primary business was Electronic, Computer and Game Console repairs. Over the years the company became a household name in Pretoria. This was due to a very simple business principal, honesty. We pride ourselves on giving our clients honest advice instead of "making the sale" or "telling them what they want to hear". Over the years we have applied this simple business practice to our electronic security and solar installation divisions with the same amount of success.
Please feel free to view our company profile brochures below
XBOX, PLAYSTATION, PS3, PS4, X-BOX ONE, X-BOX 360, ONE, 360, NINTENDO, GAME CONSOLE REPAIR, COMPUTER REPAIR, LAPTOP REPAIR, ALARM SYSTEM REPAIR MAINTENANCE INSTALL, BEAMS INSTALL, ELECTRIC FENCE REPAIR INSTALL, CCTV REPAIR MAINTENANCE INSTALL, SECURITY CAMERAS, COVERT CAMERA INSTALL

2017-07-31
Latest News
26.03.2020 - CORONA VIRUS UPDATE
CORONA VIRUS - During the lockdown period we will be performing emergency repair and maintenance services. Special arrangements can also be made for collections. Contact: Wernich - 0828030244
With the reintroduction of Load Shedding be sure to check out or Solar Power section for Off-Grid and back-up solar solutions.
Our land line is eventually operational again - 012 004 0648
01.03.2017
We have relocated to 622 Jacqueline Drive Garsfontein, Pretoria. We are still awaiting our land lines. For the time being please call on 082 884 1024, 082 803 0244 or 082 768 1289
05.01.2017
We will be moving to 622 Jacqueline Drive, Garsfontein on 01.03.2017